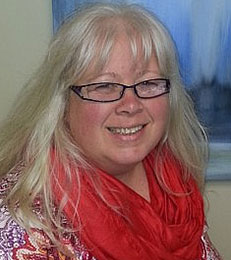 LaVerna Wilk, MC, builds champions and helps people experience freedom in their lives every chance she gets. She has worked with families, couples and individuals since 1988. As a Therapeutic Foster Parent she has worked very closely with families to maximize relationship and minimize loss. As a therapist she has helped people step out of their rut and move on to experience the life they want. She is a Certified Gottman Therapist through the Gottman Institute and works well with couples, teaching tools so that they can move out of gridlock and begin to feel movement with their perpetual issues without hurting each other. She has presented at 50 couples workshops and is a master Rover trainer for the Gottman Art and Science of Love Couples Workshops.
LaVerna connects well with those she meets because she is real and laid back. She brings energy to her work by helping people give up wishing for a better past and reach for what they want most for themselves. She has presented couples workshops, personality workshops, anger management groups and run parenting groups, focusing on attachment issues as well as a variety of other parenting issues. She is certified in Observed & Experienced Integration and specializes in releasing people from the impact of trauma. La Verna believes that from time to time everyone loses sight of the big picture and could use some perspective. There are also times when a complete cognitive and emotional makeover is called for. Her desire is to provide a safe place for people to explore their circumstances and a compass to move past them.
La Verna holds a Bachelor of Arts in Humanities and Religion and a Master of Counselling. Her experience includes work with CARES Counselling Centre in Abbotsford, therapist with the Children's Foundation in Vancouver, Program coordinator with Venture Academy, addictions counselling, sexual abuse counselling, anger management, stress and anxiety therapy and parenting classes. Other areas of interest include working with women in their search for empowerment and freedom. She has great success working with anxiety and trauma. One of the effective techniques she uses is called "Observed and Experienced Integration" which works directly on the brain and quickly helps clear negative thoughts, traumatic memories and overwhelming feelings.
La Verna has been married since 1988 and a mother of five, who enjoys outdoor activities, meaningful friendships and has a huge capacity for entertainment of many types.
"She creates opportunities for people to feel like champions, changing the world one heart at a time."
Not in the Langley Area?
We offer intensive multi-day marathon counselling or couples workshops in multiple cities across British Columbia and Alberta.
Don't throw in the towel – your relationship is worth fighting for
Even though it is easy to lose hope in finding a way out, there is light at the end of the tunnel. Our job is to help you find it.