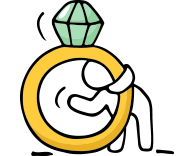 What you will learn:
In-depth relationship assessment based on Gottman's bestselling book "The Seven Principles For Making Marriage Work."
Interpretation of your unique Relationship Personality Assessment to help you learn to love your differences.
Insight in to key areas you will need to focus on to make your marriage last a lifetime.
All assessments will be conducted with a Certified Gottman Therapist.
You will receive handouts, homework and practical advice you can use today to avoid the pitfalls so many couples make in the first years of marriage!
Learn how to process any argument successfully and get closer at the same time.
Understand the importance of taking breaks and how to calm yourself down when emotionally overwhelmed.
Develop skills to stop the four killers of marital bliss…Criticism, Defensiveness, Contempt and Stonewalling.
Become skilled at techniques to maintain the fun, with rituals of connection.
Discover the three simple secrets to increasing romance, intimacy, and passion in the relationship.
Learn the art of compromise and how to honour your partners dreams.
Great gift idea for that special couple you love!
Not in the Langley Area?
We offer intensive multi-day marathon counselling or couples workshops in multiple cities across British Columbia and Alberta.
Don't throw in the towel – your relationship is worth fighting for
Even though it is easy to lose hope in finding a way out, there is light at the end of the tunnel. Our job is to help you find it.